Marvel Future Revolution recently soft-launched in Canada and it's a game that players were pretty excited about. The game is an open-world MMORPG game with characters from the world of Marvel. While that sounds pretty neat, the question is if it's been converted into a game that plays well. It is a highly anticipated game and since it's Marvel, has a big fan base. Here in this article, we will review Marvel Future Revolution and share our first impressions of the game.
---
New Marvel game but same old tactics of Netmarble
Starting off with the review, to be honest, the gameplay of Marvel Future Revolution is mediocre at best. There's a lot that Netmarble could do with the game but players just have to spam the attack button and then there's autoplay as well which just makes the game a repetitive and boring grind. The characters look pretty true to their MCU forms and players get to choose who they want to play as.
Now the cool thing with all the different characters is their signature special abilities and attacks. But again it's a wasted opportunity since you just keep clicking the attack button and can take out enemies without even thinking about it.
One of the concerns which players had was the developer of the game itself. Netmarble has worked on Marvel's game titles in the past and aren't exactly praised for that. Their games are usually Pay to win with really grindy features which make gameplay boring and repetitive. This game too sadly seems to have all those qualities ingrained in it. As players play through and spend a few hours in the game, they'll slowly get tired of it. There's autoplay as well which most players aren't big fans of either.
---
Customise the entire Marvel universe according to your needs
Talking about the better aspects of the game however, is the cool looking superheroes. Of course, this game is all about them and you can play as a bunch of different heroes from the Marvel Universe. Another thing which was a cool feature was the suits your characters can wear. Costumes can be mixed up and paired with different items to make your hero stronger and more resilient. However, this too comes with a big problem. More on that later.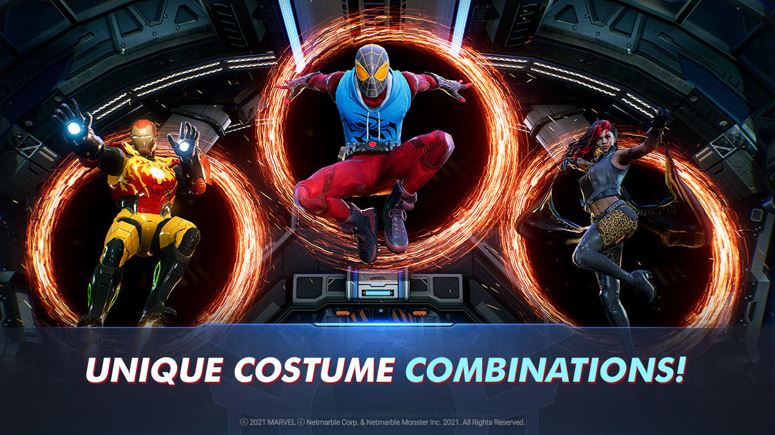 The game does have a story and there's PvP gameplay and the story has been written by Marc Sumerak who has worked for Marvel. It's an original story set on Primary Earth. At present, players can play as Starlord, Black Widow, Spiderman, Doctor Strange, Captain America, Captain Marvel, Iron Man and Storm.
Another issue is optimization. Even decent mid-range phones which are pretty good for mobile gaming will struggle a little. Overheating and freezes are pretty common across devices which really is a big issue and should be worked on.
---
Amazing AAA graphics with easy and boring controls
One of the positives of this game are the Graphics and SFX. There's a lot of detail in the world around you and attack effects and the characters look really detailed and cool. Something else which is really good are the cutscenes. They look great and sound great with the voice acting and the superheroes actually have those moments where you see their personality. The controls are pretty decent but again most of the game is just spamming the buttons on the left side of the screen. The UI is easy to get used to as well.
Netmarble and it's unbearable paywall
The game doesn't have advertisements which is pretty neat but the In-App purchases are among the biggest concerns here. The game is way too pay-to-win and if you were to take a look at the store, you'd find a lot of different cosmetics for every character but they're not just visual addons.
They can increase the damage and strength stats of your players which some might consider as unfair towards other players. There's a bunch of different bundles which cost quite a bit and if you're going into PvP, someone who's made these purchases is going to have a big advantage.
---
Final Verdict
There's a lot that Netmarble could do with Marvel Future Revolution but they just didn't. Instead, they made a pay-to-win game with less than satisfactory gameplay. A great concept was turned into a mediocre game that just doesn't seem to be worth playing.
A lot of people did predict this since Netmarble has done this in the past and it feels like despite the criticism they just don't want to change. This makes the game pretty disappointing and it's highly unlikely that Netmarble would make changes to it since their previous games have followed a similar theme.
What are your opinions on the Marvel Future Revolution game and your review of it? Do let us know in the comments!
For more Mobile Gaming news and updates, join our WhatsApp group, Telegram Group, or Discord server. Also, follow us on Google News, Instagram, and Twitter for quick updates.
Marvel Future Revolution Review
Gameplay Mechanics -

6/10

Storyline -

8/10

Graphics and Music -

9/10

Controls and UI -

8/10

Free to play elements -

4/10
Summary
There's a lot that Netmarble could do with Marvel Future Revolution but they just didn't. A great concept was turned into a mediocre game that just doesn't seem to be worth playing.