Genshin Impact 2.8 update will mainly welcome the rerun of Golden Apple Archipelago Islands with the new event quest, and also have the debut of the first five-star skin to be added in the game. Credible leaks have suggested that the contents of 2.8 might surpass a lot of the previous Version Updates in Genshin Impact. Here is the list of all the leaks that have surfaced from the 2.8 beta.
Genshin Impact 2.8 Leaks: Upcoming events, skins, and more
Limited Character Banners for version 2.8
The rumors surrounding Kazuha and Yoimiya reruns have been going for a long time now, with the confirmation of Yelan and Shinobu in the upcoming Version 2.7 Update, it is highly likely that Kazuha and Yoimiya are going to have their rerun banner in 2.8. The current leak suggests Klee in the first half and Kazuha along with Yoimiya will have their featured banner in the second half of the patch duration.
Diluc and Fischl Skins
Diluc might be the first character to get a five-star skin that has many special effects to it. This upcoming skin is estimated to be priced at 2480 Genesis Crystals or discounted at 1980 Crystals. Until now, Jean and Keqing were the only five-star characters to have a dedicated skin, but these skins had a rarity of four-star and the only thing different was the design of the skin. Diluc's upcoming skin on top of having a different theme could also feature special sounds and visual animations since it is a five-star skin.
Fischl is also going to get special skin. Its rarity should be a four-star one like Barbara and Ningguang. This skin should be obtainable as a free reward from the main event of the 2.8 Update.
Golden Apple Archipelago Islands Rerun
Golden Apple Archipelago was a limited-time map that first appeared in Version 1.6, among the group of hidden islands that were present on the far east side of Mondstadt. Among all the different events over the course of the game, this particular event was considered easily one of the best events with no shortcomings at all.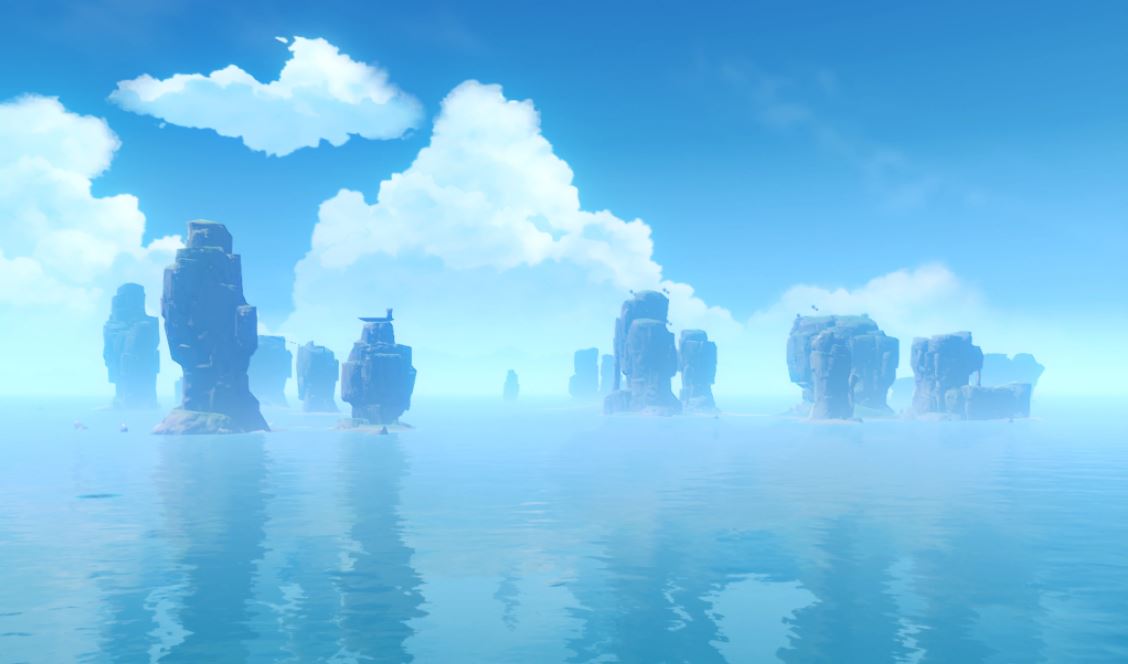 Recent leaks suggest that these islands are going to be back with a new storyline, but, they may not be the exact same islands as in the 1.6 Update. There is not a lot of information about it, but a leak indicates, that this time the islands are going to be permanent unlike in version 1.6 when they disappeared at the end of the event.
Quality of Life Updates
With each patch, Hoyoverse has added and improved many Qol changes. With the upcoming Patch Update, players can look forward to a lot of new and quality changes.
With the 2.8 Update, players on PC will be able to cap their FPS at 45. The game already has an option for 30 fps, but that is not very smooth. For players with slightly weaker PCs, this option will surely enhance the experience.
The game has been running for a long time now. New events and quest progression in the storyline add up to a hefty amount of resources of voice files, textures, and images. As of now, the game's size on PC is nearly 40 GB, which originally on version 1.0 was at 20 GB. The size has nearly doubled and even with optimization, it is tough to reduce the game size at this point. So, the developers are going to include an option in the new update, that will allow players to delete previously seen quests and resources to free up a bit of space.
Another good quality update that will arrive in 2.8 is the stacking of dropped items, which means items of the same type dropped on the ground by enemies will be stacked together. Therefore, players do not need to spam the pickup key multiple times now, just one click will allow them to collect multiple items.
Genshin Impact 2.8 Leaks: Upcoming Events
"A Summer Sea Sojourn"
The primary event for version 2.8 is going to be "A Summer Sea Sojourn", which will be focused on the new islands. This event will feature a shop to buy items and will also reward the players with the free Fischl Skin.
"The Secret War"
This event will be very similar to a previous event "Contending Tides". It may have ramped up the difficulty for players looking for a challenge.
"Evermotion Mechanical Painting"
It will be the last event of 2.8 featuring mini-games and puzzles.
Spiral Abyss 2.8 Update: Details
Spiral Abyss buffs
Phase 1: When a character takes the field, they will gain 1 Fortitude stack every 2 s. This will increase their ATK by 20%. The maximum will be 3 stacks. When characters with 3 Fortitude stacks hit opponents with charged attacks, a shockwave will be unleashed at that opponent's position, dealing True DMG. A shockwave can be unleashed in this manner once every 2 s. When the character leaves the field, all their Fortitude stacks will be cleared.
Phase 2: When a character triggers Swirl on an opponent, that opponent's DEF is decreased by 12 % for 10 s. The maximum will be 3 stacks. Each stack's duration is counted independently.
Phase 3: After the active character's Normal, Charged, or Plunging Attacks hit opponents, the character's Normal, Charged, and Plunging Attack DMG is increased by 12% for 8 s. This effect can be triggered once every 0.1 s. The maximum will be 4 stacks. Each stack's duration is counted independently. This effect will be cleared if the character leaves the field.
Enemy Lineups: Floors 11 and 12
Hangout Events
The newly-announced character Heizou will get his dedicated Hangout Event. Heizou is an upcoming Anemo character that might make his debut in Version 2.9. Heizou is also the first male character to wield a Catalyst as a weapon and is supposedly a powerful DPS character.
Kazuha Story Quest
With the added confirmation of Kazuha's Limited Character banner, it is quite likely that he will get his own story quest too. Kazuha is a wandering samurai hailing from Inazuma and once belonged to the famed Kaedehara Clan.
What are your thoughts on the Genshin Impact 2.8 Update leaks? Mention our thoughts below.
For more Mobile Gaming news and updates, join our WhatsApp group, Telegram Group, or Discord server. Also, follow us on Google News, Instagram, and Twitter for quick updates.