Mobile Legends Bang Bang, one of the most played Multiplayer Online Battle Arena (MOBA) genre for Android and iOS. The developers are set to roll out a new patch update Mobile Legends in the Advanced Server 1.5.46 with the Original Server patch coming soon. Advanced Server is a test server available in Mobile Legends for Beta Testing of new features, characters, skin, or gameplay changes. There are a lot of adjustments made on the MLBB heroes and the battlefield. Let's have a detailed look at it.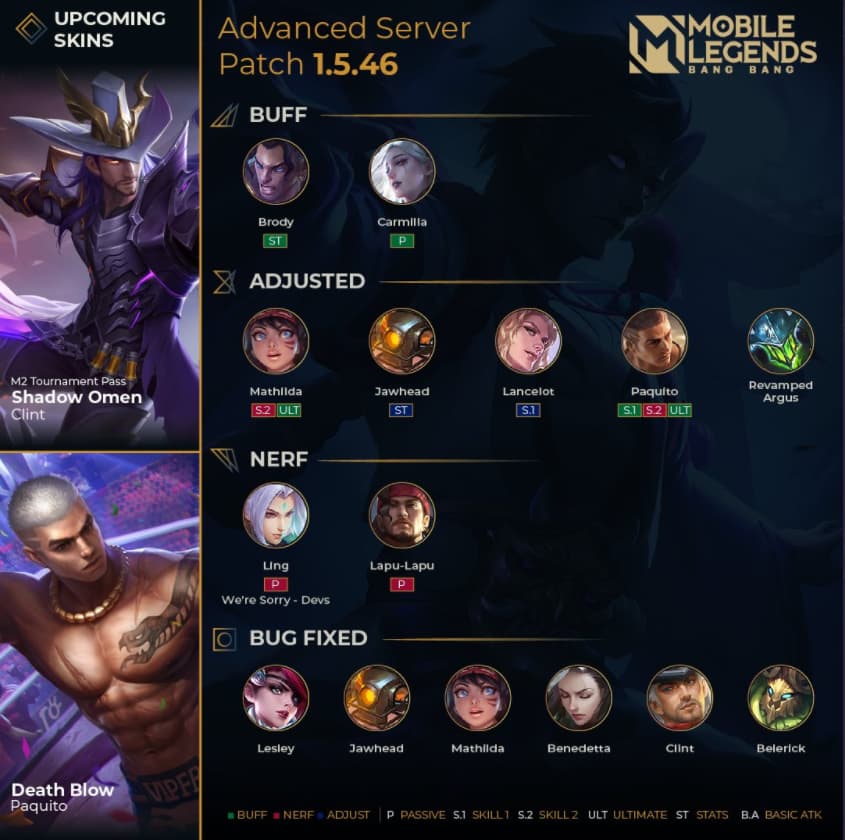 ---
Hero Adjustments
Brody
The hero received a nerf on his Physical Attack attribute for being too overpowered from the early to late game. This patch will slightly buff his Physical Attack Growth in order to balance other stats. To master him and enhance your gameplay, check our detailed Brody guide here.
Attributes( Buffed ):
Physical Attack Growth increased from 13 → 13.5
---
Carmilla
This Support hero received a buff after a long time. Although, Carmilla was too much overpowered since the release. So, finally, she is getting a chance to make a comeback. This patch will ensure her sustainability in the battle.
Passive ( Buffed )
Defense stolen from enemies increased from 5-10 → 6.4-12
Also she has Optimized recommended Builds.
---
Mathilda
Being a Support/Assassin, Mathilda is quite annoying for the enemy team, especially in the late game. This patch will focus on the nerf of her Skill 2 and will slightly buff her Ultimate to keep balance. Mastering her can be tough, you can check our guide to master Mathilda here.
Skill 2 (Nerfed)
Shield and Movement Speed Increase reduced from 4s→3s
Ultimate (Buffed)
Magic Power Bonus of Damage dealt with Wisps increased from 10% → 12.5%
Also added a warning indicator for Skill 1's area of effect damage.
---
Jawhead
The current meta allows Jawhead to be a perfect sidelaner as well as a Tank. Due to his tankiness and sustaining ability it was quite difficult in the early game to counter Jawhead. In order to master Jawhead, you can refer to our guide here.
Attributes (Adjusted)
Base HP: 2778 → 2658
HP Growth: 215 → 223
---
Lancelot
This hero has been receiving frequent nerfs in the last few patch updates. The nerfs are quite justified, but this time the developers have adjusted the skills of Lancelot
Skill 1 (Adjusted)
Optimized targeting of Skill 1, Puncture.
---
Paquito
One of the most flexible heroes in MLBB is set to receive the first nerf and adjustment. The damage output was quite overpowered in the mid-game. So, the devs have come up with some adjustments. For a detailed analysis of Paquito, check here.
Skill 1 (Buffed)
Ratio of Shield after enhanced increased from 100% → 110%
Skill 2 (Nerfed)
Base Damage reduced from 250-600 + 120% Physical Attack → 250-550 + 100% Physical Attack
Enhanced Damage reduced from 400-960 + 204% Physical Attack → 400-880 + 150% Physical Attack
Ultimate (Buffed)
Damage of the first strike increased from 125-175 + 25% Physical Attack → 250-350 + 50% Physical Attack
---
Revamped Argus
Argus is one of the most popular side laner in MLBB. It's revamp was announced long ago and finally, it is coming in this patch. Argus has now updated and redefined model, movements and special effects, improved graphics and his skill performance are smoother now.
---
Ling
After the Blue Buff nerf, Assassins like Ling were facing trouble due to high consumption of energy. The devs had decided to buff Ling's energy regen, but unfortunately, it did not work out. You can refer here to how to hyper carry and counter hyper carry Ling.
Passive (Nerfed)
Base Energy Regen reduced from 5 → 4
Total Energy Regen while upon a wall reduced from 10 → 9
---
Lapu-Lapu
After Moonton revamped Lapu-Lapu, this hero was extremely overpowered and dominant in his lane. For some regions, Lapu-Lapu also became a permaban. You can refer to a detailed guide on Lapu-Lapu here.
Passive (Nerfed)
---
Upcoming Skins
Clint's M2 Tournament Skin
Players who will purchase the M2 Tournament Pass will get Clint's Shadow Omen Skin as an exclusive skin reward. The skin will be available from 12th January.
Paquito's Death Blow
With the release of the new hero Paquito, his skin Death Blow will also be available to purchase at Diamond 269. The Launch week has a 30% OFF. The same will be available on 15th January.
---
Other Adjustments
Fixed the issue that interrupted Jawhead's Recall when any teammate was purchasing potions.
The issue with Lesley's Ultimate didn't end after its first few bullets killed Atlas in his Ejected State is now resolved.
Also fixed the display issue of the Skill Indicator of Clint's Skill 2 on the mini-map.
Now the enemy cannot hear while Benedetta charges her skill in the bush.
Fixed the issue where Mathilda got stuck after casting her Ultimate.
Belerick's Passive didn't affect his HP obtained from Emblems before purchasing any Equipment in a match is now fixed.
---
Are you excited about the latest Mobile Legends Patch Update 1.5.46? Let us know in the comment section below.
For more Mobile Gaming news and updates, join our WhatsApp group, Telegram Group, or Discord server. Also, follow us on Google News, Instagram, and Twitter for quick updates.