This post was last updated on
Pre-registration for Nexon's latest MMORPG cross-platform game, V4, is now live for both Mobile and PC. As the forces of darkness threaten to wreak havoc on a once idyllic land, V4 will take the players on a journey across dimensions to fight against evil forces. Players who will pre-register now will receive exclusive pre-registration rewards at launch.
Experience the world of Syllunas in V4
Created by Unreal Engine, V4 will take the players to experience the world of Syllunas, a land like Eutopia which is now endangered by demonic forces.
V4 offers six offence-focused classes. They are Enchantress, Slayer, Gunslinger, Boomblade, Warlord and Knight. Each class have the opportunity to deal maximum damage and destruction as they explore the vibrant adventure-packed environment. Players are free to forge alliances, explore the lands, and conquer the battlefield with their guild in action-filled real-time PvP experiences as they progress in the game.
Customization is at the core
With more than 50 customization options, players can purely individualize their character according to their playstyle with deadly weapons and armor. These can actually help their characters on the battlefield to unlock the true potential. V4 also offers a completely player-driven marketplace through the Trading Post. This will allow players to ensure that their efforts are properly compensated with player-set prices for various equipment and items.
Cross-platform facility
Cross-platform capabilities will allow the players to experience the immersive world of V4. Players from PC and Mobile are free to play at any time, whether ready to fight at home, or on the go, with any players all across the world.
V4 Pre-registration rewards
Players who will pre-register before the release will receive the following,
Limited edition mount costume
100,000 Gold
Area Teleportation cross-chest x15
Lesser Blessing Potion x15
Gourmet Bento Chest x200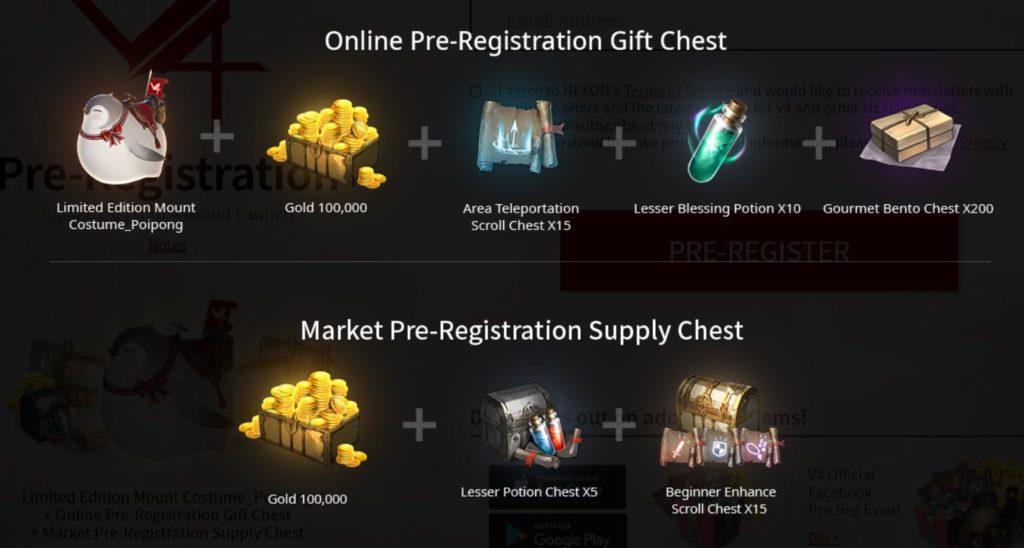 V4 will be available globally without any public beta test with the exception of Korea, China, Japan and Taiwan. However, we are yet to get any proper release date.
Looking for more upcoming games? why dont you check our listing!
---
For more Mobile Gaming news and updates, join our WhatsApp group or Discord server. Also, follow us on Instagram and Twitter for quick updates.