This post was last updated on
In March 2020, Garena took a bold decision to postpone the Free Fire India Championship (FFIC) 2020 Fall LAN Finals. It was because of the nationwide lockdown imposed by the government fearing COVID-19. Now, Free Fire has announced the cancellation of FFIC 2020 Fall and reintroduce it with a change in format. The FFIC 2020 Fall is going to be the biggest Free Fire esports tournament in India for the prize pool of massive INR 50,00,000.
Sponsored by Paytm First Games, the registration for the tournament will begin from August 13, 2020. Fre Fire India Championship 2020 Fall will be the second edition of the tournament. Interested players can register between August 13 and 16. All levels of the tournament are scheduled tentatively between August 13 to October 18, 2020.
How to Register in FFIC 2020 Fall
Registration will be done through the in-game feature Free Fire Cup (FFC). After visiting FFC, click on the question mark (?) option on the right side of the window. Here you will get all the updated dates for FFIC 2020 Fall, FFC key dates, and scoring system. You will also get to know the important FFC information and tournament format.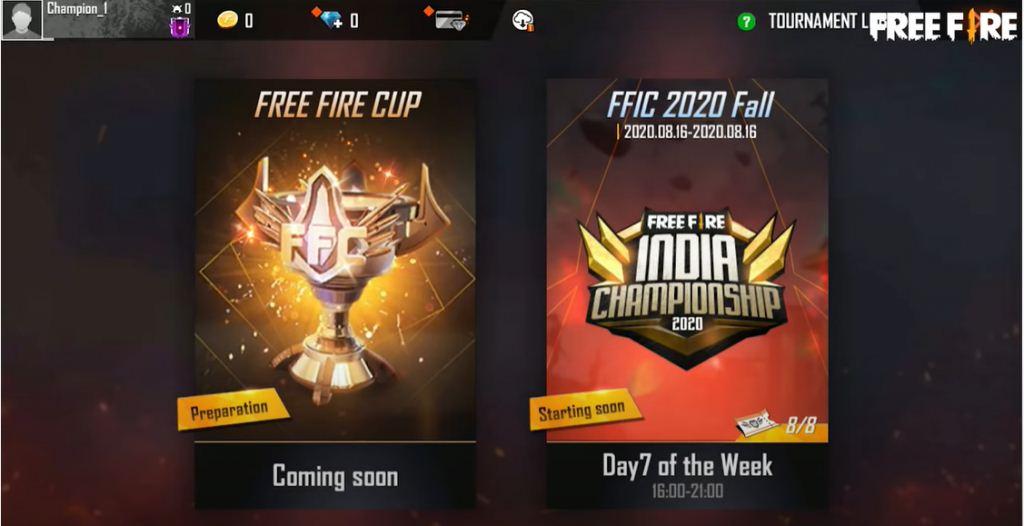 All the successfully registered teams will receive 8 tickets which can be used during the scheduled time. Matchmaking will start on August 16 from 16:00 to 21:00 IST. After the designated timeframe, all unused tickets will be null and void. 48 shortlisted teams will advance to Free Fire India Championship 2020 Fall league qualifiers.
Eligibility Criteria
Your account should be at least level 40 with a rank of Diamond 1. You will only be able to participate if you meet the prerequisite requirement. If these criteria are met, then you will be able to see all the information related to Free Fire India Championship 2020 Fall when it starts.
Creating a Team
Click on the squad button in the lobby to create or join a team and then enter the data asked in the registration form. Data includes Team name, contact information, region, avatar, and banner.
Format of FFIC 2020 Fall
FFC Mode will be held between August 13 to 16, 2020
League Qualifiers will be held on August 24 and 25, 2020
League matches will be held between September 9 to 25, 2020
Bottom 12 teams will play Play Ins on October 2, 2020
Top 6 teams from the league and top 6 teams from Play ins will participate in the ultimate Grand Finals on October 18, 2020
We will update all the detailed information about all the level of Championship once it is released by Garena Free Fire. Please check this space for more details.
Scoring Criteria/Pattern/Table
Each team will start from the base score of 400. Each round will be scored based on the following table:
| | |
| --- | --- |
| Leaving Spawn Island | -10 Per Player |
| Kills | 2 Points Each |
| 1st | 20 |
| 2nd | 17 |
| 3rd | 15 |
| 4th | 13 |
| 5th | 12 |
| 6th | 10 |
| 7th | 6 |
| 8th | 4 |
| 9th | 3 |
| 10th | 2 |
| 11th | 1 |
| 12th | 0 |
The cumulative score of each team will be considered by adding points from the top 5 matches and base scores.
Note: Please do understand that you will be penalized for 10 points each in case you leave the Spawn Island
---
For more Mobile Gaming news and updates, join our WhatsApp group, Telegram Group, or Discord server. Also, follow us on Instagram and Twitter for quick updates.