Free Fire has over 40 characters, with new characters added after each OB update. Characters in Free Fire play a vital role in the game because each has their special ability. These skills can be combined to provide the player with a competitive advantage on the battlefield. Maxim is one of the original characters from Free Fire. He used to be an overpowered character since players could rapidly consume medkits. Even though it was nerfed in recent updates, numerous players still prefer him. This Free Fire guide will help you with the best character combinations to use with Maxim and tips to master him.
About Maxim in Free Fire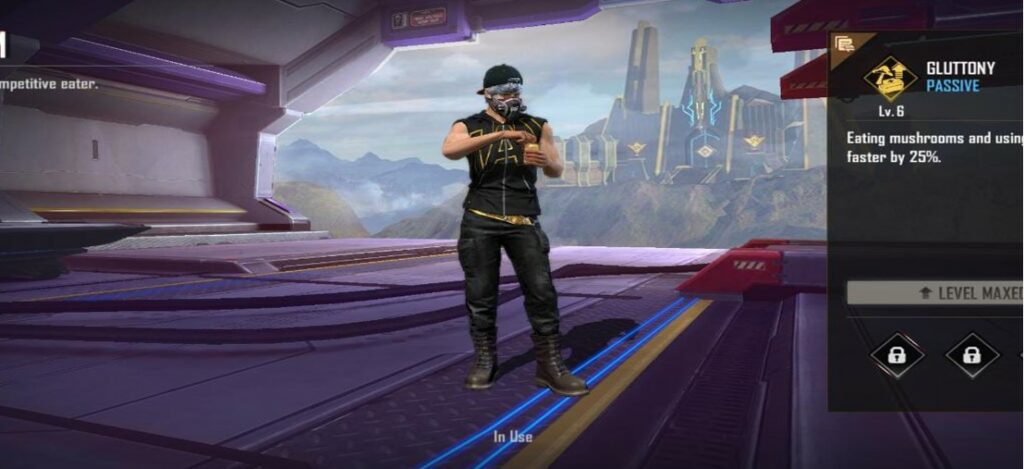 Maxim is a fictional character from Free Fire comics, and according to them, Maxim enjoys watching live streams while eating. He has a voracious appetite and never refuses food. Even while competing against people much bigger than him, he has won multiple speed-eating competitions. He was born with a bright disposition, and he is well-liked by all around him.
Maxim abilities in Free Fire
Maxim has a passive skill called Gluttony. He can eat mushrooms and medkits 5% faster at his initial level. However, it increases up to 25% when he reaches the maximum level.

Best character skill combinations with Maxim you should try in Free Fire
Players can use Maxim for offensive and survival gameplay with the other characters in combination. As he is a passive-skilled character, players can equip two passive skills and one active skill in variety with him. Some of the best character combinations are listed below.
1. Maxim/ Alok/ Kapella/ D-Bee
On activating his skill, Alok creates a 5m aura within which the user and their teammates recover 5HP every second. Kapella increases the effect of healing items and healing skills. Also, the downed enemy suffers faster HP loss. D-Bee increases the movement speed and accuracy when firing while moving. This skill combination can be used for survival gameplay in BR mode. And when required, players can get into a fight with extra accuracy and movement speed.
2. Maxim/ Wukong/ Hayato/ Moco
Wukong transforms into a bush shield on activating the skill, and the default aim doesn't work on this shield. Hayato increases the armor penetration with a proportional decrease in the user's maximum HP. Moco exposes the hit enemy's location with a mark on their head. This combination can be equipped for both the Clash squad and BR mode for offensive gameplay. Players can take down enemies even at lower HP and quickly get healed up with the help of Maxim.
3. Maxim/ Skyler/ Ford/ Misha
Skyler unleashes a sonic wave that can destroy up to 5 Gloo walls in a row within a second. Ford reduces the damage taken from the safe zone by 24%. Misha increases the driving speed while driving the user is harder to target. This skill combination is preferred explicitly for BR mode while rank pushing. Players can get into vehicles and cover the zone shift, and if the enemy damages the user, they can use medkits quickly.
Tips and Tricks for using Maxim in Free Fire
The best character to use in combination with Maxim is Kapella. It can increase its effect up to 35% at its maxim level.
While using Chrono or Wukong, players can quickly activate the skill, consume medkits, and get ready for combat if the enemy lies in the mid-range.
When covering the zone shift, players can also use inhalers while running to gain an upper hand in the fight and utilize Maxim to his strengths.
Did you find our Free Fire Maxim guide helpful? Let us know in the comments below!
For more Mobile Gaming news, guides and updates, join our WhatsApp group, Telegram Group, or Discord server. Also, follow us on Google News, Instagram, and Twitter for quick updates.