There is no doubt that Mobile Legends Bang Bang is one of the most played Multiplayer Online Battle Arena (MOBA) genres for Android and iOS. The developers are set to roll out Mobile Legends patch update 1.5.62 soon enough, making a lot of adjustments on the MLBB heroes and the battlefield which will be available via the Mobile Legends Advanced Server soon.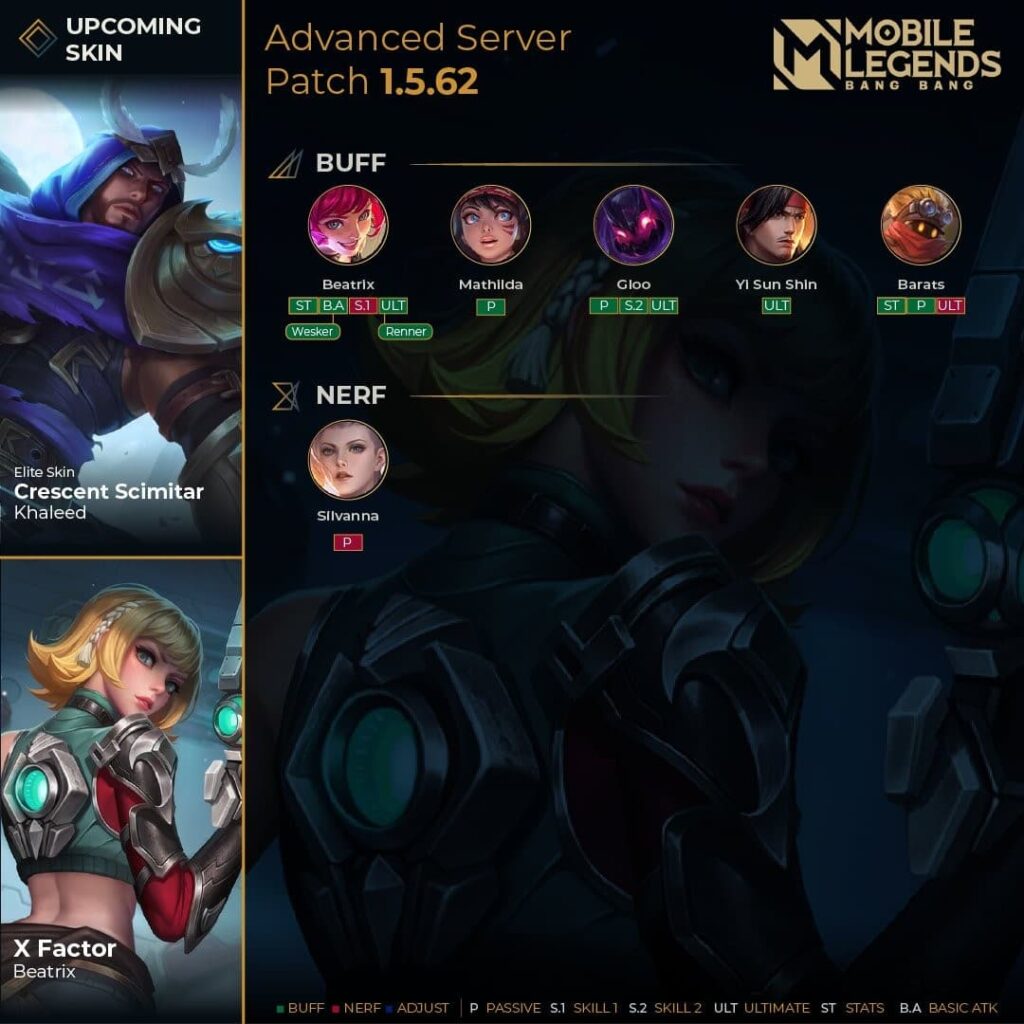 ---
Hero Adjustments
Gloo
Starting with the newest hero in MLBB's Advanced Server, Gloo is getting yet another buff for his Passive, Skill 2, as well as his Ultimate. The developers believe that Gloo is not yet optimal and is still hard to play, so they are buffing his ability to grab enemies.
Passive (Buffed)
Slow effect per Stack increased from 5% → 10%
Skill 2 (Buffed)
Cooldown: Reduced from 12s-9s → 10.5s
Width of the skill: Increased from 0.6 → 0.8
Ultimate (Buffed)
HP inherited by Gloo: 20% → 25%
Bugs Fixed
Issues are fixed where the Gloos would now gain Movement Speed when splitting apart.
Beatrix
With her release imminent in the Original Server, developers are giving Beatrix some last-minute subtle tweaks to optimize her gameplay experience further.
Attributes
Basic Attack (Buffed)
Damage Decay from hitting the same target: 50% → 60%
Skill 1 (Nerfed)
Weapon swap time: 0.65s-0.4s → 0.6s
Renner – Ultimate (Buffed)
Range of bullets widened by 10%
Yi Sun-shin
Yi Sun-shin's Ultimate has been slightly buffed, making his gameplay experience more balanced.
Ultimate (Buffed)
Cooldown: Reduced from 80s-60s → 72s-60s.
Mathilda
This adjustment of Mathilda basically balances the attributes of her passive skill-set.
Passive (Buffed)
Base damage of Enhanced Basic Attack increased: 135 → 160.
Silvanna
Silvanna is still very strong in the Original Server, whether as a Tank, Support, or Offlaner. Developers have nerfed her Passive by placing additional limits on her damage so that she will not be able to dish out high amounts of damage from her Basic Attack.
Passive (Nerfed)
Base damage of Basic Attack: 45 → 25
Barats
This adjustment of Barats buffs his passive and boosts his HP-growth and nerfs his Ultimate on a slight margin, thus, helping in balancing the character.
Passive (Buffed)
Enhanced Basic Attack Bonus from HP: 3% → 3.5%
Attributes (Buffed)
Ultimate (Nerfed)
Cooldown: 16s-10s → 16s-12s
---
Battlefield Adjustments
The developers have also made some minor changes to improve the user experience of MLBB. Firstly, players will be able to view the icon and guide for a form even if the corresponding skill has not been learned. This means that when playing heroes like Kagura, Roger, Chang'e, Selena, Beatrix, Aurora, X-Borg, Ling, or Yi Sun-shin, you can view the skills that come with a new form changed by another skill. For example, viewing the 2 different versions of skills in Selena's 2 forms.
The developers also fixed some minor issues in the game, such as the battle spell "Arrival" messing up your view when opening the minimap, optimizing the animations in Vale's skill tutorial, and a bug where Gusion can heal from attacking the Turret.
---
System Adjustments
In addition to Hero and Battlefield Adjustment, developers have also improved the matchmaking system. With slight adjustments made to the parameters of Warrior, Elite, and Mythic Rank matchmaking, players should experience less time queuing for a game. The matchmaking algorithm has also been optimized to include the roles that each player is proficient in, be it Jungler, Support, Tank, Offlaner, etc.
The High Frame Rate function has been optimized to include more devices as well to make it available to more players. Lastly, notification icons and event icons have been optimized to reduce repetition.
---
Are you excited about the latest Mobile Legends Patch Update 1.5.62? Let us know in the comment section below.
For more Mobile Gaming news and updates, join our WhatsApp group, Telegram Group, or Discord server. Also, follow us on Google News, Instagram, and Twitter for quick updates.