Ever since the launch of FIFA Mobile five years ago, the game has created hype all over the world. The player base of the game has been increasing ever since the release of the game in 2017 with more and more players joining the game every year. But as the game started becoming popular, so did various forms of hacks and cheats. EA has had always been very clear about this and clearly stated that they won't tolerate any kind of cheating or hacking in the game. Only recently just before the release of the most awaited event by the community Team of the Season (TOTS), EA banned the FIFA Mobile account of over 10,000 players that have cheated in PvE/AI matches for around 3 weeks. Needless to say, the players will miss a massive chunk of the events and daily matches to come in the near future due to a very bad move on their part.
Cheaters not allowed in FIFA Mobile
The devs have been very clear, that they thrive to make sure that every year, FIFA Mobile stays fair and fun for everyone. EA always takes into account security with great seriousness. When one connects his/her FIFA Mobile account with their Facebook, Google Play, or Game Center accounts, their login information (username and password) from those connected accounts never reaches our servers. Your login credentials are not visible to anyone, including the devs at EA. As a reminder, never give your Facebook, Google Play, or Game Center username or password to another FIFA Mobile user.
Along with account security, EA has a strong non-tolerance approach for any kind of malicious behavior or cheating. Recently many players were subjected to a temporary ban due to infringement with EA's terms of service. Henceforth, a tight Anti-cheat System has been enforced in FIFA Mobile to stop hacking/cheating in the game.
Best ways to avoid banning your account in FIFA Mobile
There are a few specific rules that EA want everyone to follow so the community gets the best experience possible. Avoid getting your account suspended or banned by keeping things honest and by not cheating. Here are the ways that can stop you from getting your FIFA Mobile account banned from the game.
1. Don't cheat in-game
Nobody likes a cheater, so it's obviously against the game's rules. Cheating can include but isn't limited to, using external tools, performing in-game exploits, and abusing glitches or bugs. For example, if you work with other players or friends' accounts to increase your rank, it's cheating. It creates an unfair advantage on the field. Don't do it. In-game cheating is not fair play and hurts the experience for the players you are playing against.
2. Never hack other players' accounts
It might seem like a no-brainer, but accessing another player's account is totally and completely against the rules.
3. Don't buy Coins from Third-Party sites
You can earn the in-game Coins in FIFA Mobile by playing, buying, and selling items using the market, but buying Coins from third-party sites is strictly against the rules. You can earn FIFA Mobile Coins legitimately through
Playing Live Events
Completing Daily Activities
Buying and selling Players and other items on the Market
Buying Coins unlevel the playing field. It affects the in-game player economy when the prices of items in the Market increase and become unaffordable. When Coin Buyers buy cheap items in the Market through illegitimate means, they take away the opportunity to buy affordable items from players who earned their Coins legitimately.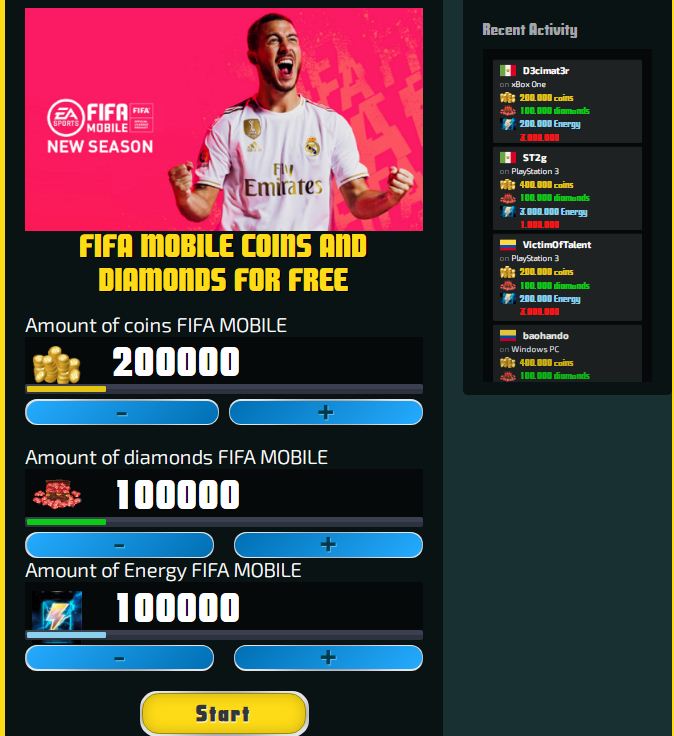 Additionally, If you are buying Coins know that you're at risk of having your account information stolen by phishers. Coin sellers need account login information to give out Coins, so that means they can just as easily remove items from your account, too. Then they'll turn around and make a profit off of the items they steal and hack someone else. Stay safe and don't indulge in all these.
4. Refrain from farming Coins
Coin farming is when you get Coins fast and illegitimately, either by using bots in the Auction House or by tricking the game into thinking you're playing matches when you aren't. When you store a lot of Coins on your account through legitimate means and from the market, that is totally cool. As long as you're earning those Coins the right way in-game. If you use any sort of bot or disconnection methods in-game so you can earn Coins fast and illegitimately, that's breaking the rules. So avoid using apps like auto-clicker to farm coins from the market and elsewhere.
5. Don't try to distribute or sell Coins
Coin selling and distribution hurts the FIFA Mobile economy. That means disrupting the safe buying and selling environment that legitimate players are trying to use to get the Players they need for their team. This is strictly against the game's terms of service and is intolerable.
6. Don't try to buy FIFA Points from a third-party seller
There is currently only one ways to get FIFA Points from the game
Buying them in-game either from Star Pass or Store Pack Offers.
Similar to buying Coins from a third party, you are risking having your account information stolen by phishers. These sellers need your account login information to get the points and you are risking them hacking you or someone else in the process. Don't get greedy and fall for it, remember all that glitters is not gold.
7. Don't abuse or use bots in the Market
Using bots or exploiting the Market in any way gives an unfair advantage and hurts the experience for you and other players. It can also negatively affect the affordability of certain items that are for sale in the market, making it harder for legitimate players to enjoy the game they know and love.
Remember FIFA Mobile is at its best when everyone can play on a level playing field. Cheating, phishing, hacking, or anything else that gives you a competitive advantage ruins the experience for everyone and impacts the game balance. Please don't do or ever think of doing it for some momentary gain.
Always adhere to the laws of the game
Like mostly everything, EA has a certain set of rules. The rules make sure that the players have fun and experience safe and secure online gameplay. With football being a global sport and the entire world plays together, EA has a global community that stays united on one thing: playing fun games. This means that everyone can express themselves in a community that is safe and fair. To keep the community safe and fair, one must always try to stop toxicity and try keeping things fair.
EA has set out the rules in place because to give the players the best FIFA Mobile experience for all players. Breaking these rules might risk you in:
Resetting your Fans.
Suspending your account or permanently ban it in serious cases.
Restricting your access in other ways.
Despite being a reputed game, FIFA Mobile has never been bug-free. People have exploited the in-game issues many times. From buying players in the market through auto-clickers to cheating in the POTM Tournament, EA has been exposed to exploits more than often thus affecting the regular in-game players. Recently they have been trying to close the doors for unfair play or any means of misdeeds in the game.
So, if you are aware beforehand and are playing a game fairly, then be sure nothing will happen to your account. And for those who have been into this for a time being now, please refrain from doing such things, or else you will lose all your progress and everything related to your account. In the end, that little amount of coins of FIFA points you acquired will all go in vain, if your progress is entirely reset and you need to start out from the beginning. So play fair and play wisely!
Want to complete your team with the best players? Check our suggestions below!
We hope you find this FIFA Mobile Account Banned article helpful and would refrain from any kind of unfair play. Please feel free to ask any questions in the comments section below, I'll make sure to reply to everyone.
For more Mobile Gaming news and updates, join our WhatsApp group, Telegram Group, or Discord server. Also, follow us on Instagram and Twitter, and Google News for quick updates.